On the latest Digital Sociology Podcast I am talking to Dr Jess Drakett who is a Senior Lecturer in Psychology at Leeds Beckett University. Jess shares some fun and fascinating insights from her PhD research  into representations of gender in meme culture and sexism in the tech industry. She conducted qualitative, discourse analysis of probably the most commonly used memes – "image macros". These are usually an image with white writing overlaid at the top and bottom like this: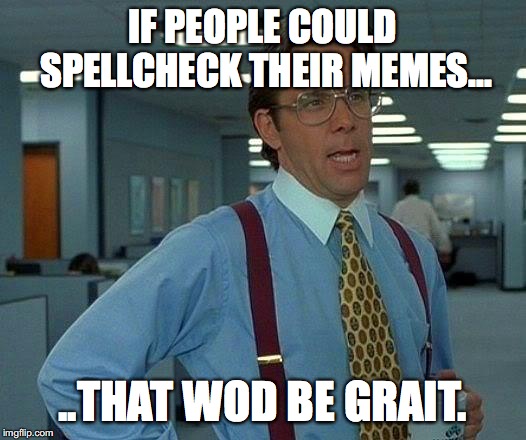 The research looked into how humour is used in the very rule bound world of memes both by applying the format of a particular image macro to a new and context, subverting the form or commenting on it (as with the one above).
A big part of the analysis was how memes create collective identities for those who know the rules and the references but are also exclusionary for those who don't and if they are the target of the memes with many being sexist and misogynistic.
The other part of Jess's research was into the use of humour in a workplace context in the programming industry. She found similar kinds of humour used in the tech industry and memes themselves as facilitators of this with image macros being pasted up on workplace walls.
Jess talks a bit about the challenges of conducting research on memes but also that some of the most useful resources are ones which academic researchers wouldn't usually draw on like the "Know Your Meme" database:
You can read Jess's paper on her meme research 'Old jokes, new media – Online sexism and constructions of gender in Internet memes' in the journal Feminism & Psychology
https://journals.sagepub.com/doi/10.1177/0959353517727560
However, that version doesn't include images (due to the copyright concerns of the publishers) but the pre-print version of the paper does:
http://eprints.leedsbeckett.ac.uk/4406/
You can follow Jess on Twitter @jessicadrakett
You can listen to the podcast on Anchor or download and subscribe on iTunes, Google Podcasts, Spotify, Stitcher or wherever else you get podcasts.
This episode:
https://anchor.fm/digital-sociology-podcast/embed/episodes/Digital-Sociology-Podcast-Episode-20-Jess-Drakett–memes-working-in-tech–sexism-and-humour-e39o1k
Podcast archive:
https://anchor.fm/digital-sociology-podcast